Regular price
$1,999.00 USD
Regular price
Sale price
$1,999.00 USD
Unit price
per
Sale
Sold out
Meet the AirTulip Sleep: a unique headboard with a built-in air purification system that uses laminar airflow technology to eliminate airborne pollutants, such as dust, allergens, and even harmful micro-organisms. Creating an environment conducive to optimal health and well-being.
Currently 15% Discount! | Code: BFM2023
View full details
Collapsible content
Currently available in these States: NY, NJ, CT
List of Features

Uses advanced laminar air flow technology, creating a particle-free bubble in which you sleep
3 Modes (day, night, whisper)
Night mode: sound level 30 dB
Whisper mode: sound level around 26 dB
1200 - 1300 CFM CADR day mode (Twin: 600 CFM CADR day mode)
2 Large HEPA-14 Filters (1 in Twin)
2 Pre-filters (1 in Twin)
Measurements & Dimensions

Twin

42 (L) x 12 (W) x 48(H) inch
Weight 45 lbs

Queen

70 (L) x 12 (W) x 52(H) inch
Weight 72 lbs

(California) King

84 (L) x 12 (W) x 52(H) inch
Weight 79 lbs
Delivery Time

Delivery time is 8 weeks. The headboards are sustainable and handcrafted in New York and the Netherlands.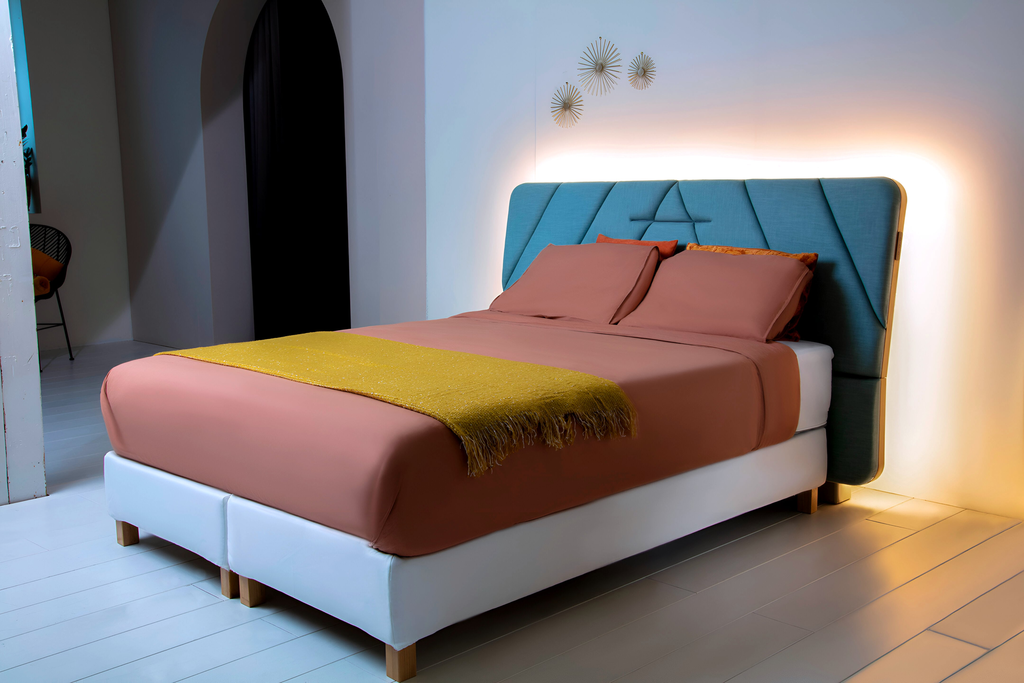 Space Creating
AirTulip Sleep seamlessly integrates into your bedroom interior as a stylish and functional headboard. No more clunky air purifiers in the bedroom.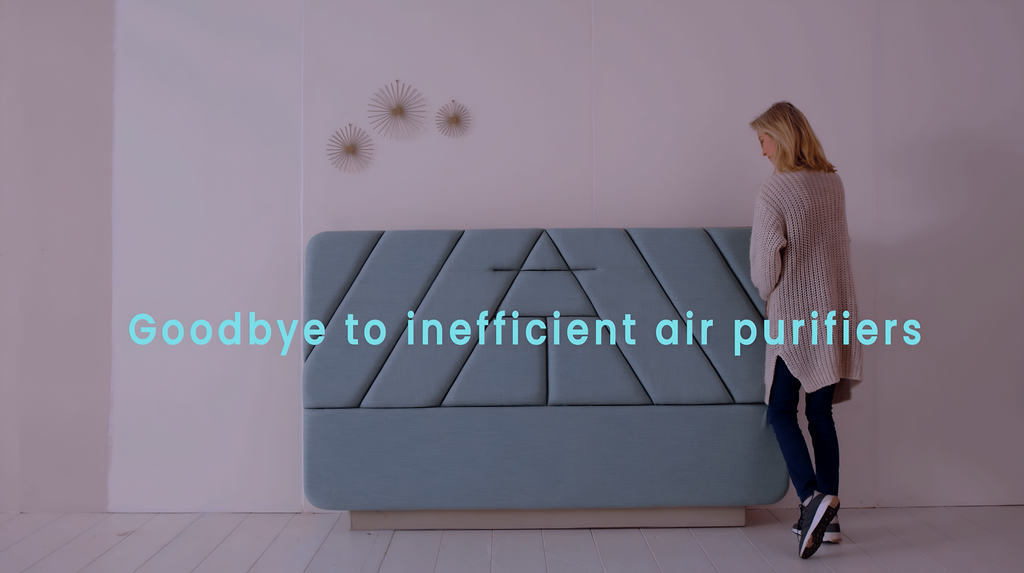 Easy Install
The headboard comes fully assembled. Place the headboard behind your bed, plug the power cable in and it's ready to use. No tools or team needed.
Restful Nights
AirTulip Sleep uses laminar airflow for ultimate purity, enabling mornings free from stuffy noses and tired eyes. Unlock the magic of pure, rejuvenating rest!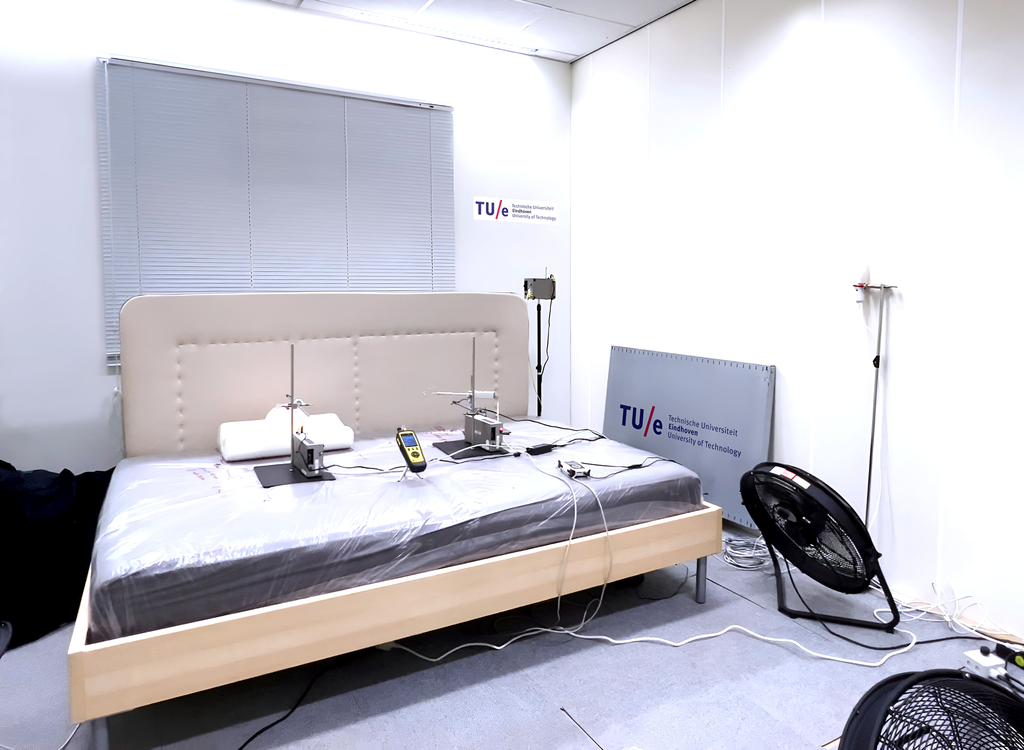 Backed by Science
The Eindhoven University of Technology performed a scientific research into the performance of AirTulip Sleep. Confirming an exceptional improvement in air quality.
The Solution to Pure and Restful Nights
Experience the ultimate air purification system designed as a headboard for your bed. With laser visualization, witness a clean, particle-free zone forming around you while you sleep, ensuring unmatched comfort and well-being. You don't have to stress anymore about polluted air while you sleep.
Why you'll love it
Improved Sleep Quality: By eliminating airborne pollutants, allergens, and harmful microorganisms, it helps you achieve a higher quality of sleep, leaving you feeling more refreshed and revitalized in the morning.
Enhanced Health and Well-Being: Breathing in clean air while you sleep has numerous health benefits. It helps reduce the risk of respiratory issues, allergies, and asthma symptoms by minimizing exposure to common airborne irritants. Additionally, clean air promotes overall wellness, allowing your body to undergo essential repair and rejuvenation processes during sleep.
Increased Energy and Productivity: Waking up feeling well-rested and rejuvenated translates into increased energy levels and improved productivity throughout the day.
Peace of Mind: Knowing that the clean air zone created by the AirTulip Sleep has been confirmed by a reputable technology university. You can rest assured that you are investing in a product that has undergone rigorous testing and validation, ensuring its effectiveness in providing you with clean and healthy air as you sleep.
Aesthetic Appeal and Functional Design: The AirTulip Sleep seamlessly integrates into your bedroom decor as a stylish and functional headboard. Its design not only enhances the aesthetics of your sleeping space but also serves as a powerful air purification system, optimizing both form and function.
By choosing the AirTulip Sleep, you can enjoy these benefits, making it a worthwhile investment for your sleep, health, and overall well-being.
Improved sleep quality
The actual unit looks very nice. We are super pleased with the color and finish materials. We had a great night sleep!
More restful sleep
I have noticed a more restful sleep, with less congestion when I wake up.
Finally, a Night of Restful Sleep
I love the AirTulip! I am allergic to everything outside and dog/cat. I have cats and a dog so I create my own misery, I know. I also live in an old house were dust is never ending. I feel with the AirTulip my sleep is deeper and more restful. I feel refreshed when I get up and I am not having allergen issues while sleeping - eye irritation, sneezing, congestion. I am thankful to have found this product!
Breathing Easy with AirTulip Sleep: A Breakthrough for My Son's Asthma
My pre-school son has had no wheeze, no overnight coughing fits and is sleeping significantly better since fitting the AirTulip Sleep onto his bed, this is a huge improvement to our lives given we had at least monthly hospital trips caused by his asthma.
Allergy Relief Achieved: My Experience with This Life-Changing Product
I have suffered from allergies all of my life and ever since I have used this product I wake up in the morning without a stuffy nose and stuck eyes.